HOW DOES THE VORTEX DRUM PUMP WORK?
The Vortex Drum Pump turns an ordinary 55 gallon steel drum into a liquid vacuum cleaner and shop vac combined. Just mount the Vortex Drum Pump on the threaded attachment of the 55 gallon drum, hook up compressed air and you have a liquid vacuum and shop vac which requires no electricity The Vortex Drum Pump creates a vacuum inside the drum pulling liquids and solids into the drum for disposal.
The Vortex Drum Pump is safe for use in wet areas since there are no motors or electricity. The unit is lightweight and portable. It easily picks up high-viscosity liquids as well as chips, and sediments.
The Vortex Drum Pump makes an ideal emergency spill pickup system. The Vortex Drum Pump is very affordable. You may want to have several around your shop to prevent overflow problems.
Manufactured from stainless steel construction so that corrosive materials are not a problem. The Vortex Drum Pump has a built in flow control to shut the unit off so that there is never a chance of over filling the drum.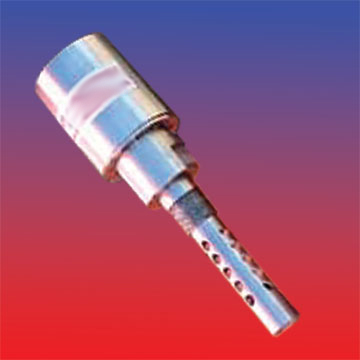 USE OF THE VORTEX DRUM PUMP
PUMP TO HEIGHTS OF 50'
VACUUMS UP COOLANTS, LIQUID, OIL, POWDERS, CHIPS, FLOOR DRY
A VERSATILE SHOP TOOL
FEATURES
ENGINEERED CONSTRUCTION
NO MOTORS TO BURN OUT
STAINLESS STEEL CONSTRUCTION
BUILT IN FLOW CONTROL
BENEFITS
MAINTENANCE FREE
LIGHT WEIGHT
INSTANT ON AND OFF
PORTABLE
LOW COST-FRACTION OF THE COST OF SHOP VAC
SAFE FOR USE IN WET AREAS