WHAT ARE STATIC CONROL GUNS?
The Ionization Air Gun puts high pressure low volume ionized air at your fingertips, by Inductively coupling a high intensity ionizing nozzle to a durable lightweight plastic compressed air gun.
The 1470 makes it easy to solve static electricity problems by delivering ionization to hard to reach spots or across irregular areas.
An ideal cleaning tool , the 1470 first neutralizes the static electricity holding contaminants on small parts and then scours the surface clean with a blast of high pressure air.
A real problem solver in applications where cleanliness is critical.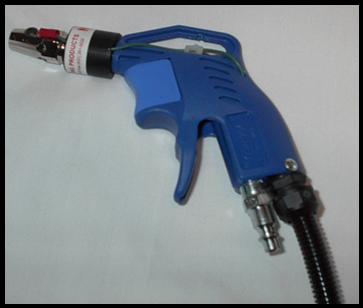 SPECIFICATIONS
Air Supply: 30 P.S.I. ( 80 P.S.I. Max.) Clean ,Dry Air

Air Delivery: On / Off with Trigger Control

Air Gun Body : Plastic

Ionizing Body: Plastic with an Aluminum Tip

Recommended Power Supply: 1510

Power Cable: 10 feet between Power Supply and Gun

Input Power: 115 VAC 50/60 HZ.

Weight: Less than 10 OZ.